Ein neues Palisadentor mit Torhaus:
https://twitter.com/FarmerJ03/status/477091508165017600/photo/1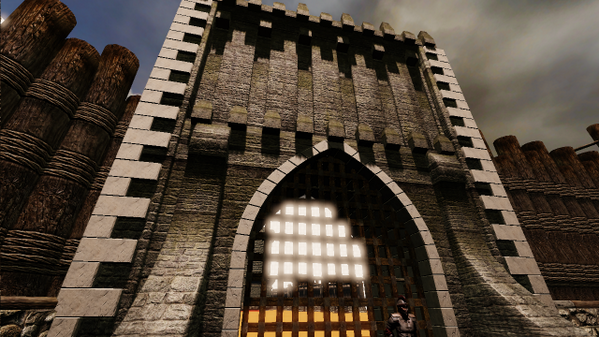 Damn I really need to come up with some names because my post confused you again.
Let's just call cities build by guilds from the ground up guild-cities and the other world-cities.
World cities would be Meduli,Fabernum etc.

TC will not make it possible to move things around in world-cities when they are controlled. I will bring back the turn-off red options that guilds use to have but apart from that not much work (tweaked how much income you get based of this thread thou). But other then that world-cities will not change much.

But guild-cities, that's where it's at. These cities are made up by buildings that can be freely placed anywhere within the guilds territory. Each building/wall etc have slots, on these slots you can place pretty much any NPC you can think of.
In these cities guilds have FULL control, they decide what guards they want and that decides what type of city it is. Have a city with only your own guild-members or a city where your guild can do whatever they want but everyone else needs to follow the law etc.
They set the taxes per vendor (even..thinking about giving the option to set taxes to a negative number to reduce price but the difference will be paid out of the guild-treasury).


Any building you have built with TC.
Walls,banks,farms,patrol posts,starting points..etc.

I guess mostly they will be assigned to patrol posts,gates and on top of wall but they can be put down on any building...just like any other NPC.
Do you have a mine placed in the outskirts of your territory that keeps getting raided? Place a guard on one of the extra slots and the raiders will have to deal with that to.



Territory structures can be placed on any spot where that a guild owns with control towers OR in a area around a house with a guild stone.
Obviously someone that owns a keep has a lot more land and a lot more funds to work with so that's where the larger cities will be built but normal houses can have some stuff around them to, walls etc.
Brokers that you have now in houses are meant to be used the way they are, as a shop for one guy to add to.
If you want a "real broker" you will need a guild stone and build a broker house post the tc patch.
There are no further changes on the broker system on the table at the moment (optimization will be done thou).

You will be able to place crushers ya and those .. things.
Both the stables and the bank will should NOT be working the way they are at the moment, instead they should be restricted by house friends but that.. will either be changed in the future or revamped when houses get their work-over.
Post TC patch thou, you can just place a bank or a stable and that will work as you want either way.
You can place workbenches.. ahh .. tutors what ever pretty much.

Nothing will change with the expansions of houses, this is a separate system and the only connection it has to a house is that they need to be close to a guild house to be placed (or on your land if you own a keep).


The pre-placed walls will be replaced with territory walls by GMs.
So before this happens a announcement will go out because this will mean that the gate/wall chests will be emptied out.

We want to add more steps to normal guilds and are thinking about making it possible to upgrade the guild stone.
This would increase the member cap and also add/increase the area around the house that can be used to build on. Nothing of this has been coded yet thou.

The area is not super-large but you should be able to build walls a gate and a couple of other things.

TC will be focused on for the new continent so there will be a lot less large pre-made cities.
So I'm guessing more then on Myrland but we don't know for sure yet.

_________________
Co-leader of Germanen ODIN/GER in FL 2012-2014
Leader of Wolfszeit 03/2010-09/2011
Chaos moves in mysterious ways.


Xunila

Admin




Posts

: 1311


Join date

: 27.02.12



Vom 12.August:
From today:


Smaller guilds will be able to build structures yes.
The system for guildstone will change. The guildstone is now split up in levels and can be upgraded.
After it reaches a certain level the guild gets a AOE around it's house where they can build.
The stone can then be upgraded again to get more area.
Upgrading the stone will also open up for more things to do. A level 1 guild will for example not be able to get prominence or be involved in war.

A single person could even upgrade his guildstone to the level where he gets aoe and then get rid of the members and keep the aoe but it will be hard working paying all those salaries with just a single dude.

Red priests work just like any other red priest.

The levels on the guildstone are there to make it easier for smaller guilds to get started, the stone have gone down in price due to the change to make it easier for them to get started.

Balance on how difficult it is to take down a city is being worked on at the moment and it's pretty difficult
right now. The guards in the city really makes a large difference.

The internal notes are right now 125 lines so there's a lot of bugfixing to.
All is subject to change still thou.


Laws are held by the guards.
Guilds can hire 3 types of guards:

Tindremic
Follows the laws of the emperor works just like guards in Tindrem. Will attack any red/grey on sight regardless if they are in the same guild or not. They will also attack any guild enemy on sight.

Soldiers
Will only attack guild enemies on sight and guild members can tell them to kill anyone and they will do so. Good if you want to run a open community where flags don't matter.

Mercenaries
Will attack ANYONE that is not the same guild. These guys are red-flagged. Useful if you want to run a town where no one but your own guild can enter.

Note that these are JUST Npcs that can be placed on any building. So you can have Soldiers at some spots and Mercs closer to things you don't want other people to touch.

Each one of the guards come in different flavors and levels. Mages,ranged only melee etc.
You can even get them as guard-wolves.
All guards will also ofc defend their own guild members,NPCs and structures if they are attacked.

You can only build on your own territory or in a AOE around your house.


You use a NPC contract to place the NPCs. Also you need TS blueprints for buildings.
These you can get in all sorts of ways we have added a new system that makes it so that we can make more interesting vendors that have certain requirements you need to full fill before he will trade with you.
This can be.. you must own the territory he is standing on or..you need to have X sophistication or Y amount in a skill.. things like that.
On top of that we have normal hidden vendors added to the world and new drops ofc from NPCs, some chest stuff things like that.

Some buildings you build will come with vendors that sell new NPC/Blueprints so you need buildings X to get to building Y etc. Like an RTS would do it.

A massive influx of new items was one of the goals here and I think we have hit that.

_________________
Co-leader of Germanen ODIN/GER in FL 2012-2014
Leader of Wolfszeit 03/2010-09/2011
Chaos moves in mysterious ways.


Xunila

Admin




Posts

: 1311


Join date

: 27.02.12



Von heute:

Greetings everyone,

With the Territory Control patch changing key game mechanics, we need to inform the community with an important bit regarding how TS (Territory Structures) are placed.

In order to place TS, you must be in the control radius of your guild. With the TC patch, palisades and gates will be converted to the new TS system. The current palisades will be rebuilt by Star Vault staff once the patch goes live. What this means is that if you own a keep which does not have a guildstone placed once TC goes live, we will not be able to rebuild your walls and your keep will be openly attackable. At this time we are not ready to give a release date or an ETA, but keep looking on the forums for updates!

Thank you for your attention to this, and we look forward to seeing what everyone will do with the new system!

-Star Vault Support


Yes old guildstones will be upgraded when patch launches.
Also yes that's enough to build around it.

Note that if you LIFT the stone post the patch the guildstone will lose all it's levels and will need to be upgraded again.


Different guild stone levels open up new things you guild can do.
If you lift the stone you guild-level will be 0 meaning you can do nothing.
One of the things you can't do is pay salaries...and no salaries means that NPCs will riot and your TS buildings will take damage.

_________________
Co-leader of Germanen ODIN/GER in FL 2012-2014
Leader of Wolfszeit 03/2010-09/2011
Chaos moves in mysterious ways.


Xunila

Admin




Posts

: 1311


Join date

: 27.02.12




---
Befugnisse in diesem Forum
Sie können in diesem Forum
nicht
antworten